Baseball's Biggest Egos
In two hours and twenty minutes (I'm writing this shortly after midnight because I have to work all day Tuesday), the 2008 Major League baseball season will start. The first pitch will be thrown by Joe Blanton to whoever is hitting leadoff for the Red Sox tonight (Pedroia? Youkilis?). The Mets play their first game against the Marlins on the 31st. It's all really quite exciting. Opening Day really is unlike any other day of the year. Every team begins with the same record, and fans across the country believe this will be their year.
So it is only fitting that Maxim Magazine takes a break from penning God-awful music reviews (this week's include Madball, The Police, and Rufus Wainwright, plus an article on "Icon" Kid Rock) and shitty bar jokes to present their online audience with a list of the ten biggest baseball egos. Their list opens with Tommy Lasorda — an awful choice considering he's an ambassador of the game — extends through Ted Williams (because he had four nicknames and wrote a book on hitting?), Pete Rose (cheating and lying aren't necessarily linked to vanity), and Keith Hernandez (all it takes is listening to one Mets game to hear how modest he is), and ends with Reggie Jackson. Roughly two of the names on the Maxim list would make my list, and those are Barry Bonds and Billy Beane. Here's my list of the ten biggest egos in baseball.
10) Jose Canseco – Made a fortune on his book Juiced about playing during baseball's steroid era. He said steroids were great and should be legalized because they're beneficial to players. I can't imagine being a reporter at a time when a guy showed up to on game day looking like this and it didn't raise a single eyebrow. Now Canseco is pushing a sequel to his book called Vindicated. His interviews sound so completely pompous, but there is absolutely no substance to anything he says. It's remarkable to witness. Next to Gwyneth Paltrow, Jose Canseco is the most erudite-looking moron I've ever heard.
09) Curt Schilling – He's got a blog called 38 Pitches where he talks about anything that is on his mind, but usually analyzes his starts and calls out the media for inaccuracies in their coverage of him and the Red Sox. Someone's a bit of an anal retentive control freak, no?
08) Gary Sheffield – During the World Baseball Classic (a sort-of World Cup for baseball that enables countries to compete against one another in the spirit of the game), Sheffield stated that he didn't much care for the event, saying, "[his] season is when [he's] getting paid." He's said that when he was looking to get traded early in his career, he would play poorly or purposely not try his best to win. About his teammate Bobby Abreu, Sheff once said, "He's a good player, but like I say, you can draw it up any kind of way: he aint' me. And that's the bottom line."
Peter gleefully fingers Condi's asshole at a recent Giants game
07) Peter Magowan – The owner of the San Francisco Giants told an interviewer that when his team was winning, manager Dusty Baker got too much credit for their success. He and the team's general manager recently came under fire for their culpability in ignoring the growing steroid problem in baseball. Magowan reportedly said in his interview for the Mitchell Report that Barry Bonds admitted to him that he was using steroids, then he withdrew the remark a few days later. Look at how shitty the Giants are and tell me who is at fault. I'm sure Magowan has a slew of names (none of which are Peter Magowan) belonging to those responsible.
06) Joe Morgan – Perhaps the worst broadcaster in the history of baseball, Joe Morgan is also an under-spoken narcissist. He doesn't make brash statements in the vein of a Gary Sheffield, but if you listen to even one of the games he announces on ESPN, you'll see my point. Sure, he hates all white people, but he especially hates smart while people, supposed egotist Billy Beane. Morgan has said he has nothing to learn from a writer or statistician who has never played the sport as a professional, and that "…anytime you're trying to make statistics tell you who's gonna win the game, that's a bunch of geeks trying to play video games." He also sued the LAPD for detaining him at LAX on suspicion of drug charges and won nearly a one million dollar settlement. What a fucking fag.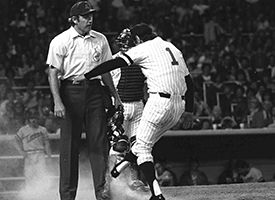 05) Billy Martin – If you raised even a slight point of contention with the five-time Yankee manager, you risked being pulled into a fight. He had to be restrained while going after Reggie Jackson in the dugout during a nationally televised game. He called out George Steinbrenner on his conviction for making illegal donations to Richard Nixon's presidential campaign). Those are two of the biggest egos in baseball in Jackson and Steinbrenner, and Martin took them both on with the vigor of a drunken Irishman.

04) Roger Clemens – His denials regarding his supposed steroid and human growth hormone use are despicable, but what's worse is that the guy actually believes in his own innocence. He threw a fastball at Mike Piazza's head because the guy was simply better than him, then threw a shard of bat at him during the World Series because…well, I guess 'roid rage will make a man do unusual things. Every time I see his face on TV I feel sick. What a nauseatingly egotistical asshole.
Barry, following one of his many court appearances

03) Barry Bonds – Take Roger Clemens and multiply that by one thousand and you have Barry Bonds. The way he smiles when demeaning reporters asking about his legal issues (steroids, perjury, whatever) makes me want to stab him in the face. He really is the epitome of an egomaniac. All it takes is listening to a single press conference. You'll hate him as much as I do.
Look at that sad sack of shit, left alone to wonder why he sucks

02) Alex Rodriguez – It's funny, too, because the guy is such a fucking headcase you just know that he's really sensitive and emotional and prone to bouts of depression. Look at that picture. Do you remember the way he spoke during his sub-par stretch two years ago? It was fucking hilarious. It didn't matter if the team won or lost, all he wanted to talk about was how well he hit on certain days. For Alex, the three-run homerun he hit in the fourth inning of a blowout was more newsworthy than the crucial throwing errors that lead to a disheartening loss. Don't forget how he threw Derek Jeter under the bus before he became a Yankee, telling Sports Illustrated that he was the most feared shortstop in the game, and that pitchers didn't fear Jeter. Lastly, if you're going to opt out of your contract (the richest ever awarded to a ballplayer) then re-sign with the same team for a new record-setting contract, you've got to have quite a big fucking ego. I hope he dies of AIDS.

01) Derek Jeter – What a smug, arrogant piece of shit. He is a pathetic excuse for a ballplayer, whose entire career has been built on sheer luck. It just so happens he's performed adequately at an important position for a team that bought a handful of championships in the '90s. If you put that dufus and his gay-ass fade haircut on the field for any other team, you'll see just how mediocre this scumbag truly is. He wouldn't switch positions when the Yankees signed Alex Rodriguez (who is a vastly superior shortstop), and he's a fucking tax cheat. When people describe Jeter's talent they often use the word "intangibles", meaning he's really talented in ways that are impossible to grasp, and the ways in which he makes his team better cannot be quantified by trivial means such as statistics. So, basically what that means is, in a sport where statistics mean absolutely everything — and are valued much more than in any other professional sport — Derek Jeter's greatness is entirely speculative. I wonder if, in a league of all Derek Jeters, might we finally stop the unnecessary act of counting wins and losses? Because, after all, it's not whether you win or lose, but how you play the game.
Tags: