Interview: William Fowler Collins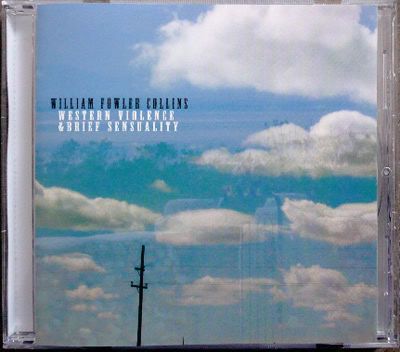 There is nothing like driving across the country. Although it might sound a bit antisocial, I prefer to go it alone. There are no distractions, and nothing to stop you from completely losing yourself in your surroundings. Out of sheer desire (I assure you it is not boredom) you are compelled by unknown forces to try unusual new things and do what you would ordinarily choose not to do. I strayed from the beaten path whenever possible. I was constantly observing, listening to, and recording my constantly changing environment.
Upon returning home after a long rip, all I want to do was leave again and find a new place to explore. I constantly search for things to take me back to the places I have visited — a familiar face, a unique sound, or a hint of sky that I swear I have seen before. In the company of friends I find myself repeating stories so as not to forget them. Sometimes I even sit awake at night and run through the thousands of pictures I've taken on the road in order to to force me into remembering how joyous those times were.
One night last year I was sitting in my bedroom reading the Aquarius Records "New Arrivals" list, and I came across an album review that instantly stuck with me. The artist was William Fowler Collins, and the album Western Violence & Brief Sensuality. The staff at AQ described it as a man "exploring the paradoxical perspective of [New Mexico] through experimental guitar compositions". I was sold. I purchased the CD and awaited the opportunity to close my eyes and recall New Mexico's landscape. The vast mountains, horizontal strata and endless sky still felt fresh in my memory. I was not disappointed. Collins not only documented the intrinsic beauty of "The Land of Enchantment", his recording inspired reflection. I found myself enjoying it most during long drives and late nights. I made sure to include it on my "Best Albums Of 2007" list (#52). Shortly after that list was made I awoke to find an e-mail from none other than William Fowler Collins. He thanked me for including his album on my year-end list, and wished me a happy 2008.
Since then, we've e-mailed one another with some regularity. William drops the occasional nugget of information following certain blog posts, like how he's shared a rehearsal space with Om in San Francisco, or detailing his thoughts on Boris and Sunn O))). In turn, I respond with thinly veiled threats to interview him. Not having conducted an interview in almost two years, I worried he might agree to one. Of course he agreed. For the past month, we have written back-and-forth about about life, New Mexico, and Western Violence & Brief Sensuality. Enjoy!
Tell me a little about yourself.
"I grew up in Western Massachusetts. Mostly Bernardston, with a few years in Greenfield and a little time in Ashfield. Small towns. I was listening to music from a very early age. The first album I purchased, at age 6, was AC/DC's Let There Be Rock. I listened to a lot of classic rock and then around age 14, which is when I got a guitar, I expanded into other areas such as punk, hardcore, metal…From Ashfield I moved to San Francisco and lived there for 14 years. I attended the San Francisco Art Institute and, later, Mills College. I moved to Albuquerque with my wife in the summer of 2006 because we were both offered jobs at the University Of New Mexico and we were ready to leave San Francisco. Now I work as a Designer, primarily for web-based projects. "
What were your first impressions of New Mexico after moving from San Francisco? was it an easy transition?
"Definite culture shock. It would be impossible to avoid that, coming from 14 years in a major metropolitan area into a city that feels like more of a town. We miss some friends and the excellent food in San Francisco, but not too much else. Our quality of life is better here in that we could afford to buy a house, we can actually park our car when we go out, and there is no traffic. Not to mention being able to walk to a national forest within minutes."
Before you recorded Western Violence you played in Mire. Can you expand upon the sound, and how it might have related to what you do now?
"Mire was a band started with friends also attending grad school at Mills College. We had a pedal steel player, a laptop musician, and a drummer. I played electric guitar. Basically it covered noise, free improvisation, country, more noise… It was instrumental and pretty cinematic overall. Initially I was also doing electronics but switched over to guitar. It isn't too foreign from what I am doing now, but obviously there was the input from 3 other players and, aside from the simmering collaborations I have going, I am mostly a solo act these days."
Yours is certainly a unique sound. Are there other Albuquerque musicians or regional musicians you consider yourself to be closely aligned with, from either an ideological or an artistic standpoint?
"I've been working a side project called Heavywater with a musician here, Jim Roeber. That is both electronic and instrumental improvisation. Raven Chacon is another musician I've played on bills with and hope to work with. Mark Ray Lewis has a band called Trilobite and I've worked on his latest album. There's also Mike Bjella, a guy who runs the Sounds of Battle and Souvenir Collecting label in Phoenix. I'm working on the early stages of a collaboration with him. The Brightblack Morning Light, who I met in California through mutual friend Colm O'Ciosoig [drummer, My Bloody Valentine], live here in New Mexico now as well. I toured a little with them last year. I just met and played with a band called the Silver Pines who are based just outside Austin, TX. I'm planning to head to Austin to do a show with them at some point. I guess what drew me to all these people is a general interest in similar types of music and a respect for their musicianship. I am fortunate to have friends such as these, especially having come into a brand new environment. I'd say that there are similarities [ideologically, musically] with some of the artists and myself, but we all have our voices."
What about how the press (if at all) understands you and your compatriots? By most standards (The Shins aside) Albuquerque is not a city that is commonly cited as a hotbed for underground music. Do the locals recognize the great music (or any "underground" art) being made in their community?
"Thus far, the press has been very kind to me. I think locally they tend to label anything outside the mainstream as 'noise', without realizing that noise has become a whole genre unto itself. There is a good, active community here, and there are some some supportive art spaces, and a venue called the Peace & Justice Center where shows can be put on. Basically, almost nobody comes through Albuquerque on tour in the rock scene, but underground bands will come through. It is nice to have some venues to play that are outside the rock club scene, where generally people are there to get drunk and be entertained by the headliner act. The crowds that I've played for here have been fantastic. They actually listen instead of yammer away through everyone's sets."
How has everything you've already written about, the city, its inhabitants and its surroundings, influenced you
"New Mexico has some breathtaking beauty. There is obviously an intense, vast desert element as well as beautiful wilderness. There are volcanoes, mesas, mountains. The sky is much more prominent here than in any other place that I've lived. It is consuming and almost hypnotizing. I'm not sure how this influences things directly, but it perhaps it has something to with the fact that I think of my musical pieces as emerging from – and existing in – an expansive field of sound."
I remember driving into Albuquerque for the first time on I-40, and it's kind of this downhill, slow approach where you are surrounded by mountains on both sides and a big beautiful blue sky above…there are houses and neighborhoods springing up from the foothills of all those mountains, it was unlike any other city I've ever seen. Then I had the opportunity to walk around and experience the rich culture of the city, which draws from colonial Spanish settlers. Does any of the cultural history influence you? Or is it more just the openness and breathtaking natural beauty of the area?
"I'd say the natural beauty is more of an influence. The foothills of the Sandia Mountains, where I live, are great to hike through. There's a lot of sound coming from the wildlife there – coyotes, birds, insects. I feel fortunate to have a national forest in my backyard, basically. I just drove from Albuquerque, through Jemez and Los Alamos to Taos. That's an amazing drive, you pass through canyons and by the caldera along the way. I visited the Tas Pueblo and got a big drum made from cottonwood and elk hide. I've also gone down to the Trinity site when its open to the public and that place is intense for obvious reasons (site of the first atomic bomb detonation). It is a striking place, visually, and there's a huge amount of history here in New Mexico."
I remember the White Sands Missile Range is out there in the middle of the state. The last time I was in Albuquerque (Summer '07) I wanted to visit but had no idea where to begin or even if there was an entrance. What other natural elements have influenced your music?
"Driving into Taos is pretty amazing, and the drive up through Jemez and the Caldera is beautiful. We're heading to White Sands this summer to check that out. I'll also visit Carlsbad and the caverns there, Roswell…probably the lightning fields and the Very Large Array. Those will all likely leave an impact. I've been busy since arriving here, so this summer will really be a time to explore New Mexico. I just got a portable digital recorder so I'll definitely be heading up into the foothills to record."
Many of the songs on the album are reminiscent of field recordings. Have you used any of those natural sounds, the animalistic ones you mentioned earlier, in your compositions, or is guitar the only element?
"It is somewhat intentional. There are some actual field recordings used in one of the tracks, "Untitled Dream 1", and throughout the album, I'd say there are sounds that, to me, can suggest things such as bombs exploding, machine gun fire, insects, air raid sirens… I used recordings I made in the city. Bus stations, walks though the city, hanging the mic out the window to capture street sounds. I don't live in an urban setting now, so I will be able to capture a whole different environment. Then I think I'll either process those recordings or simply layer them, unprocessed, when I edit and mix. The guitar is very central to the work, but there are other electronic elements that I created on the computer with an audio synthesis software program called SuperCollider. I would also take recordings of guitar and process these using the same program. "Evening" is actually a recording of a live performance."
How do live performances differ from your recorded output? I imagine it would be somewhat difficult to replicate certain pieces in a live setting.
"They are different depending upon the setting. For a show I did with Ikue Mori in Brooklyn at Issue Project Room last year I used both laptop and electric guitar. I used some of the material from the CD, so pieces were loosely recreated. I designed that set to begin with electronics (laptop, effects pedals) and then finished with electric guitar (with cello bow, micro-cassette recorder, etc.). Lately I have just been doing solo electric guitar live. Basically it is improvised, but I map my sets to have some overall form. It also incorporates micro-cassette-recorder (played through the guitar, similar to track "Evening" from the CD), Tibetan singing bowl (also played through the guitar, actually), and I bow it using a cello bow."
Was the process of recording process of Western… ever compromised by outside forces? How long did it take?
"I began recording it in San Francisco around 2005 and finished recording and mixing it here in New Mexico by the end of 2006. It was ready and released in March 2007. No perils, I love the entire process."
Do you have plans for a follow-up? What direction do you see yourself taking after such a self-reflective and regionally-influenced album like Western…?
"At least one follow-up is well underway, and there will possibly be material for a second as well. As I mentioned I also have some collaborations that are progressing. I think the new material is different, but probably not a dramatic departure. Guitar and field recordings will possibly play a bigger role though it is hard to tell at this point. I've also been experimenting with some percussive elements. A lot of pieces take shape in the mixing stage, so there is a big unknown to explore."
Western Violence & Brief Sensuality is available on CD at Aquarius, iTunes, and/or William's Website: www.williamfowlercollins.com. William was also kind enough to donate a copy of the CD to this website for a contest or giveaway, so please leave a comment or send e-mail me telling me which state (US residents only) has the most natural beauty. I'll pull one at random to be the winner.
Listen to "Foothills' Ghost" [courtesy of William's website]
Tags: