Franco Battiato – Fetus

Warning: Illegal string offset 'bl_icon' in /homepages/27/d128466631/htdocs/wp-content/themes/samba/single.php on line 86


Warning: Illegal string offset 'skip_featured' in /homepages/27/d128466631/htdocs/wp-content/themes/samba/single.php on line 136

Warning: Illegal string offset 'skip_featured' in /homepages/27/d128466631/htdocs/wp-content/themes/samba/single.php on line 137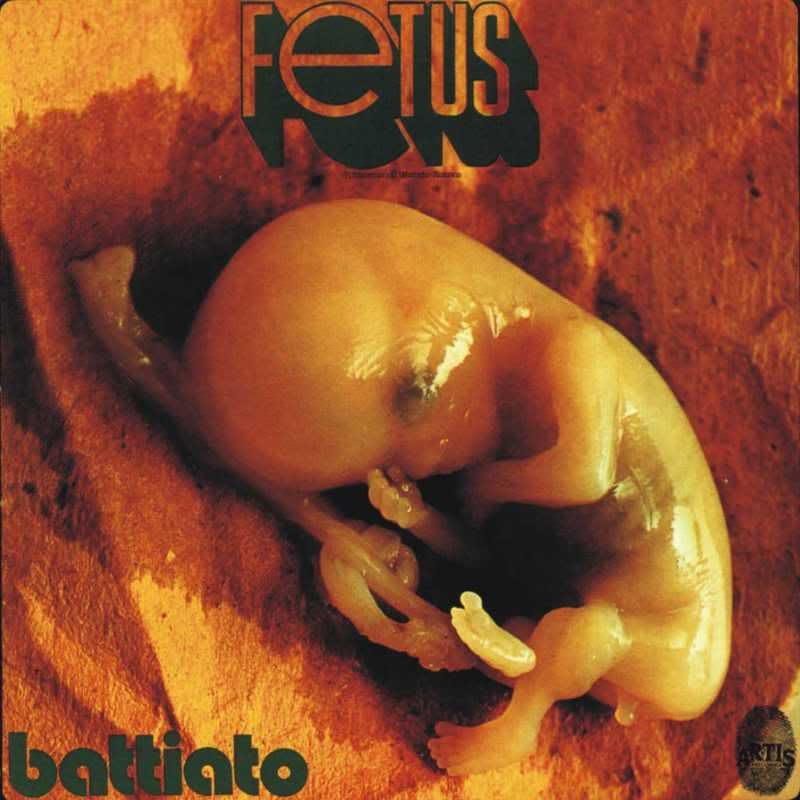 From Julian Cope's Head Heritage.
"Throughout my early-90s re-appraisal of Krautrock, umpteen records were pushed my way, accompanied by the comment: "If you like so-and-so, you'll love this lot…" It was only when this amazing 1972 record by Franco Battiato was recently issued in its English language version that I dusted off my copy of the original and realised how much I'd once played it. Bloody hell, I knew every note on the album; and I knew it's near neighbour, 1972's sister album Pollution, almost as well.
Fetus is an album beyond all definition. It's a masterpiece of daring and almost stupid risks that work every single time. Some of my forthcoming descriptions of these songs will appal you – no way can it sound good with the elements he's describing. But it doesn't sound good; it sounds great. In little more than half-an-hour, Battiato takes us through eight uniquely super-detailed songs that tug at the heart strings as no other experimental record ever could.
Fetus is an entirely studio album, audaciously psychedelic and sonically estranged in the manner of Kalakackra's mysterious Voyage to Llasa LP, Witthuser & Westrupp's Trips und Traume, and the first album by Dalek I Love You. Out of nowhere, acoustic guitar songs reduce themselves to unaccompanied solo piano licks, horde nations of backing vocals rush to agree with the lead vocalist, whilst even the most hoary classical tunes will be commandeered to accompany famous events. Its mystery is in its unashamed use of clichés juxtaposed with thee most un-obvious elements. The best example is surely the Stephan Grapelli-style "Georgia Brown" violin which is used to orchestrate a drum-machine driven psychological song.
From his use of such wide-ranging musical influences, Franco Battiato, is a real mystery, too. Indeed, from the sheer volume and wide range of his output from the late 1960s onwards into the 1990s, Battiato most reminds me of myself. Beginning as an Italian pop singer, Franco Battiato moved into the 70s on the crest of the progressive rock wave, which is where we find him for the recording of both Fetus and Pollution. Battiato was briefly signed to Island Records, and it was during this period that the English language version of Fetus was made. Franco Battiato had plans to make it big in Britain, and played two fairly high profile shows at London's Roundhouse, supporting first Magma and later Ash Ra Tempel. And it was at this time that Frank Zappa, on hearing Pollution, famously called Battiato's work 'genius'."
Franco Battiato
Fetus
MediaFire DL Link
Tracklist:
01. Fetus
02. Una Cellula
03. Carioinesi
04. Energia
05. Fenomenologia
06. Meccanica
07. Anafase
08. Mutazione