Jerry Solomon – Through The Woods

Warning: Illegal string offset 'bl_icon' in /homepages/27/d128466631/htdocs/wp-content/themes/samba/single.php on line 86


Warning: Illegal string offset 'skip_featured' in /homepages/27/d128466631/htdocs/wp-content/themes/samba/single.php on line 136

Warning: Illegal string offset 'skip_featured' in /homepages/27/d128466631/htdocs/wp-content/themes/samba/single.php on line 137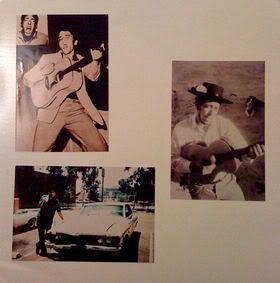 Has it already been over a month since I shared Jerry Solomon's lost cult-classic Past The 20th Century? Well, the fine folks over at Imaginary Landscape have blown my mind now for a second time by sharing yet another Solomon album. This one is 1973's Through The Woods. I'm not sure if this one was already released on the private label Fountain Records, but then again I've yet to see a single mention of the album online that ties it to any record label. So, who knows!?
This one opens with a long drone, one of three such tracks titled "Creation." The songs on this album do not feature the plinky little toy piano and one note guitar, but solo voice with a sustained accordion or mellotron. There is the occasional strummed guitar and distant backing vocal, but for the most part it's drone, Thorazine, and space. Whereas Past The 20th Century found Solomon pining for days of yore and a return to more peaceful, conservative times, Through The Woods is the sound of a man who might be losing his grip on reality. It's hard to tell when he is speaking English and when he is babbling nonsense syllables. There is a creepiness to these songs, an unsettling sense of emotional pain that cannot be described accurately in words. It is dark, and it is mad. I would love more than anything to know what happened to Jerry between 1971 and 1973 that led to the recording of this album. I would love to find out what it all means. I am stunned and intrigued and scared at the same time. I guess that's what makes treasures like Through The Woods so wonderful. The reality and the harshness and the inspiration here is way more evocative and compelling than anything new I've heard in ages.
The recording quality is not great, but then again I dare you to even find a Jerry Solomon record.
Jerry Solomon
Through The Woods
MediaFire Download Link
Tracklist:
01. Creation I
02. There Is A Light Just Over The Hilltop
03. Through The Woods
04. Teen Love
05. Creation II
06. Creation III
07. Mi a Elttil Yob
08. Lady
09. Oh
10. Once Upon A Time